About us
Madhu Chocolate is a company born out of a passion for combining traditional Indian flavors with the decadence of chocolate. From our humble beginnings in a kitchen in Austin, TX, we set out to create the highest quality bean-to-bar product. We source our cacao from the Tumaco region of Colombia and Idukki Hills region in Kerala, India, then meticulously roast, crack, winnow, grind, flavor, temper, and wrap all our bars by hand.

Our inspiration comes from many sources, but one that stands out is Harshit's mom. Her inventive recipes and incredible chai have fueled Harshit's lifelong passion for food, and she continues to inspire us every day. It's fitting, then, that we named our business after her: Madhu, which means honey or sweet in Hindi. To us, it represents the perfect name for a chocolate company.

At Madhu Chocolate, we believe that sweetness goes beyond just our products. That's why we live by the mantra, "Be Madhu to one another." We strive to spread kindness and positivity in everything we do, from our beautiful packaging inspired by Indian textiles to the gorgeous bars themselves. We pour our heart and soul into every aspect of our business, and we hope you can taste the love in every bite.

Sincerely,
Elliott and Harshit, Owners of Madhu Chocolate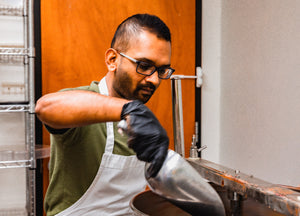 Harshit Gupta
Chief Executive Officer, Chocolate Nerd. Harshit loves everything which is chocolate. His understanding of Indian flavors and spices has helped in creating these mouth watering chocolate flavors.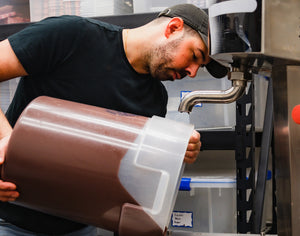 Elliott Curelop
Chief Chocolate Officer, Flavor Guru. Elliott loves making chocolate from scratch almost as much as he loves his dog, and that is really saying something. 
The Process
Sourcing the best ingredients is of the utmost importance to us. At Madhu Chocolate, we are committed to using ingredients that are sourced ethically, from single-origin farms where farmers get equitable pricing for all their hard work. The bean to bar process is a long and tedious one. It starts with roasting the cacao beans at the optimal temperature to enhance the beautiful nuanced flavors of the cacao beans, then cracking the beans and removing the husks to get beautiful, antioxidant-rich cacao nibs. Then these precious cacao nibs are ground for several days along with cocoa butter, sugar, and the Indian spices and flavors which help to make each bar a unique experience. Once the chocolate is extra smooth, it goes through a tempering process that gives chocolate bars their shine and perfect snap. The last step is hand wrapping each chocolate bar, and then they are ready for your enjoyment.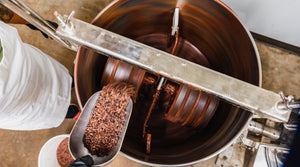 The Refining
The most crucial process of chocolate making - refining cacao nibs along with other ingredients. Refining is the process of grinding our ingredients down until they become a smooth, liquid chocolate.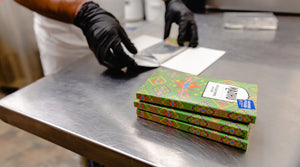 Hand Wrapping
Once chocolate is all ready, we temper it and then hand wrap each chocolate bar in our beautiful Indian inspired packaging.
Our Values
Human Rights
As 100% LGBT+ owned business, we believe that equality makes the world a more interesting place. That's why we love partnering with other LGBTQ+ businesses such as Diaspora Co. and Prima Dora/Tiny Grocer. 
South Asian Issues
As a 50% South Asian owned business, we believe that the value of the Indian/South Asian community doesn't end with our flavors. That's why we support WiseupTX, a non-profit organization dedicated to voter registration and education within the South Asian community of Texas. 
Environmental Stewardship
We only have one planet, and we're pretty sure we're not migrating to Mars any time soon. We think there's nothing more important than minimizing our environmental impact, which is why we have thought about it at every step in our process. From choosing to use machines with low energy consumption, to composting our cacao husks, to using recyclable packaging. Aiding the environment is an ongoing process, and one we are always working to perfect.
Slavery
Slavery and child labor are some of the more depressing parts of the chocolate industry, and we are committed to avoiding those issues at all costs. The best way to ensure pay equity and fair labor practices is to grow the cacao ourselves, but we can't do that here in Texas. So we have done the next best thing, and partnered with Uncommon Cacao for all our cacao beans. Their commitment to transparency is one of the best tools we have to select quality cacao that we can feel good about.